See what people are saying about Mossy Nissan!
Gerald C. - Mossy Nissan Oceanside
"Purchased a beautiful 05 Honda Accord EX V6 with 23k miles! This car operates like a brand new Accord, looks, smells and performs like new! I purchased the car from Tom, great salesman and friend. Thank you Mossy and Tom for a sharp looking, newer, low mileage car!"
Dave G. - Mossy Nissan Oceanside
"It was outstanding!"
Sonia R. - Mossy Nissan Oceanside
"Service department Oceanside has always been pleasant for me."
---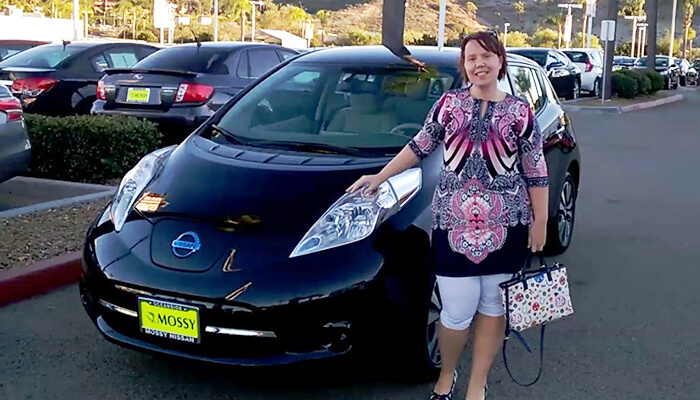 Wouter R. - Mossy Nissan Oceanside
"Had a pleasant experience with Mossy Nissan."
Juan G. - Mossy Nissan Oceanside
"We recently just purchased 3 new vehicles from Mossy Nissan in Oceanside we had a great experience... best sale representative I have ever dealt with. No hassle, no pressure... Least to say we are very pleased with our purchase."
---
This is by far the best car dealership experience I've had. My salesman Steven was very busy and obviously in demand but he never rushed me and was patient through the experience. The sales manager Ali did not pressure me and he was extremely helpful and generous. In my past experience at other dealerships the sales manager is the "closer" in an attempt to get you way outside your budget. Ali was fantastic and extremely fair in my dealings. For me the finance portion is usually the worst at least in my experience. I never thought I would say this, but the finance portion was the most fun I've ever had at a dealership. Nick Torres is funny and kind. I couldn't stop laughing and thoroughly enjoyed the finance experience. I mean this is unheard of!! I would recommend Mossy Nissan of Oceanside to family and friends. I know I'll be back!! Thank you to the team at Mossy Nissan Oceanside I love my new baby!!!
-Moo W. @ Yelp
---
Finally after 20yrs and 230000 miles it was time to find a newer ride. Mossy Oceanside has a great selection of used cars and not just Nissans. I would recommend Mossy Nissan if you are in the market for a new or used vehicle.
- Flo N. - Mossy Nissan Oceanside
...Every staff member was professional, warm and caring and made me feel special. I have already recommended this dealer to my friends and family. I am pleased to say that I am one HAPPY CUSTOMER! Thank you so much and keep up the good work!!
- Sandra, Yahoo Local
---
Thanks, @mossynissansd, for taking such good care of us today. Everyone was super friendly and great to deal with. Leased 2nd Mossy car.
@elise29, Twitter
---
"The best car buying experience I ever had!!! The attitudes of everyone I came in contact with were so friendly. It was a breeze. I definitely would go back!"
- A Google User @ Google+ Local
---
"Price, value and location. This place has a variety of cars with no haggle or hassle pricing. They also have a decent service department."
- Arnel @ Yelp
---
"Service was outstanding!!!!! I had my truck serviced the other day and had a great experience. The customer lounge was clean and comfortable, nice big screen, free coffee, my oil change took 32 minutes from key in to key out."
- MtnBykng @ CitySearch
---
"When I purchased my Nissan Versa SL, I did so with baited breath. It was the first brand new vehicle I had ever purchased in my life, and having heard so many horror stories from friends and family over the years, I was prepared for battle. As it turned out, no battle armor was needed. Not only did the sales staff guide me through the car buying process, they also informed me of a sales incentive I was not even aware of, and they, as well as the parts and maintenance staff, made good on everything they promised. Mossy assigns one person as your "go-to" whenever maintenance is needed, so I don't feel like a number when I show up. I still love my Versa, and whenever its time to schedule maintenance, the staff are always friendly, courteous, and helpful."
- Peggy @ Yelp
---
"Could not be more pleased. They are very honest and don't try to upsell. They take great pride in their work, even down to the complimentary car wash & vacuum. They are also mindful of what will result in the best value to the customer."
- A Google User @ Google+ Local